RV Single Color LED Awning Kit
RV Single Color LED Awning Kit
Product Description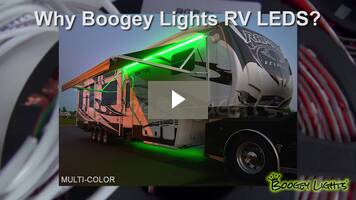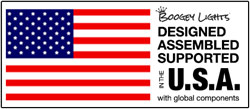 SINGLE COLOR LED AWNING LIGHT KIT FOR RVS, CAMPERS & TRAILERS
The Boogey Lights® LED awning light kit is designed to attach to the side of an RV, trailer or camper just beneath the awning. Each LED strip is 16 feet long and can be cut if needed to fit your application. On full power it provides an incredible amount of light you control with the included wireless key fobs. Available in these color options: WHITE, RED, GREEN, BLUE, PINK, ORANGE and PURPLE. The lighting effects include four levels of dimming, strobing, fading and "breathing" using the included key-fob wireless controller. Our controllers operate on 12vdc which is readily available on just about any RV. We also offer an optional 110vac to 12vdc power converter if desired.

NOTE: The above photos show our optional UNDER-GLOW LED kit which is affixed to the bottom of the RV shining down on the ground.
SINGLE COLOR LED AWNING KIT - WHAT'S INCLUDED
Our single-color awning light kit includes the following:
1 - Single-color LED light strip in your choice of color with 300 super bright LEDs on black PCB (printed circuit board). Total length is 5 meters (about 16 feet) and can be cut every 3 LEDs if so desired. Each strip has authentic 3M super-strong backing tape affixed to the back of the strip. Each LED strip has 15' of additional power lead cable. Additional power lead cable can be purchased if needed.
1 - PLUS version Multi Color Multi Function Wireless Remote Control with 2 Key FOBs. (controller measures 2-1/2" x 1-3/4" x 7/8")
3M promoter tubes used in preparing the surface of your RV before affixing the LED strip.
Wiring kit and connectors
IMPORTANT NOTE ON PURPLE LEDs! All purple LED's on the market today are actually ultra-violet (U/V) and produce a soft purple glow particularly when used on motorcycle engines. The color however is not a real bright effect like you'll get with red, blue, green, orange, etc. If you want a subtle purple glow that looks great, then the U/V LED's may well be for you. If however you want the brightest lights possible, you will not be happy with purple.
WHY DOES THE PRINTED CIRCUIT BOARD (PCB) COLOR MATTER?
LED lights are mounted to a Printed Circuit Board (or PCB for short). The color of that PCB makes a difference in how the finished installation looks in the daylight. Our LED light strips come in two versions to match the surface the strip will be attached to. If you have a light colored RV, you will probably want to order the WHITE PCB light strip. If you have a dark colored RV, you will probably want to order the BLACK PCB light strip. Personal preference only.

PLEASE NOTE: The environmentally safe epoxy coating used to seal our LED strips will tend to have a yellowish tint over time – typically in a year or so. It will be more noticeable on LEDs mounted on white PCB vs black PCB. This yellowing does not impact the brightness or functionality of the LEDs. Also, strips that are exposed to UV sunlight won't tend to exhibit the yellowish tint as much as those that are used indoors.
OTHER OPTIONS
There are a number of options available which you may wish to consider. If you have a question as to what you need, call us! We're here to help.
Our standard awning light includes our PLUS version Remote Control. You have the option of purchasing this awning light without the controller. Why? Because some customers want to replace their existing factory awning light with a high-intensity, high-quality awning light and wire it directly into the existing switch mechanism. In this scenario you don't need the controller. Just be aware that without the controller you will not have the abilty to dim the lights. Also, if you are replacing an existing factory light you need to make sure you have the lights wired properly.
110vac to 12vdc power converter. In situations where you don't have access to sufficient 12vdc power, you can use this 110vac to 12vdc power converter.
Four conductor power lead wire available in BLACK and WHITE. Typically used in situations where you need to extend to a power source further away than the standard 15' long power leads will reach.
Wire Trak™ raceway used to hide power wires without drilling into your RV. This convenient, flexible and durable plastic raceway is easy to install (it uses 3M tape just like Boogey Lights® does) and does a great job of hiding the power cables leading up to the LED strip. Makes for a nice finished look.
Waterproof Quick Disconnects. These handy waterproof quick-disconnectors can be used in situations where you want to be able to remove a power lead. These 4 conductor quick-disconnects make it simple.
INSTALLATION TIPS
Installing the Boogey Lights® LED awning kit is relatively simple. Typical installation time is about 90 minutes. Some things to keep in mind before you start.
Make sure you know where your electrical connection will be. Most RVs (motorhome, travel trailer or fifth wheel) have an electrical access panel somewhere on the right side of the RV where 12vdc power is available.
Decide how you are going to connect the power lead coming from your LED light strip to the power source. Many RV awnings (particularly motorized awnings) have a mounting bar that is already affixed to the side of the RV. If so, you can usually run the power lead cable coming from the LED light strip inside that mounting bar. If not, you can use some flexible Wire Trak™ raceway to hide the power lead cable. The Wire Trak™ raceway uses the same 3M tape technology our Boogey Lights do so it's easy to affix the raceway to the side of your RV.
The only way to ensure the LED light strip stays stuck to the side of your RV is to make sure you prepare the surface in accordance with the directions. Every LED light kit we sell includes 3M promoter (aka "primer"). It's absolutely critical the surface be prepared using this special 3M promoter and that you follow the directions provided with every light kit.
If you need to cut the LED strip, make sure you do it before affixing to your RV. Our LED strips can be cut every 3 LEDs and are clearly marked.
When in doubt, call our technical support team! We're the experts. We've done this tens of thousands of times. We know what works.
AMPERAGE Data for all Boogey Lights products can be found on our website.
NOTE: All Boogey Lights® LED strips are COMMON CATHODE LEDS. They share a common ground and will only work with positively switched controllers. Most LED strips on the market today are COMMON ANODE because the controller technology used to power them is less expensive to manufacture. However they're not nearly as bright and are an overall inferrior design when compared with COMMON CATHODE LEDs.
Warranty Information
Original Owner Three (3) Year Warranty on the LEDs and Controller
Product Reviews
Great Lights and Instructions!!

Posted by John V on 14th Apr 2017

The single color awning LED strip is perfect, tough and a great addition to our 2014 Forest River 5th Wheel. Boogey Lights has the honor of being the third set of LED's on our rig. As close to Elkhart, Indiana as Boogey Lights is, you think some of the RV manufacturers would use this superior product! But what do I know-I am just a consumer that watched two LED Light Strips go bad!

Quality Product Worth the Price

Posted by John Pearson on 9th Apr 2017

Debated to try another cheaper brand, but went with Boogey Lights. No regrets, very easy to install, works perfectly, clearly a superior product to other RV lights I have seen.

Far Superior Product

Posted by Steve on 27th Mar 2017

Original LEDs on 2014 Gateway 5th wheel were garbage! Boogey Lights are much better quality and provide ample light. I'm pretty tame so I went with single light strip with no frills. Installation was simple but I do recommend an extra ladder and set of helping hands to assist. No regrets for paying more $ for superior product!

Great lighting option for awnings!

Posted by Gary on 9th Feb 2017

Very nice & clean install. Wired directly to the RV's 12 volt system, with a dimmer control. A great addition to our RV.

Best LED lights on the market today !

Posted by Martin Kenyon on 3rd Oct 2016

These lights are really easy to install and are the Brightest and best I have ever seen ! I plan to buy and install some more in the future.

Quality Industrial Strength Lighting Installs Like Clockwork and Puts Out Twice as Good as OEM LED Awning Lights

Posted by Bob G. on 28th Aug 2016

I installed the "RV SINGLE COLOR LED AWNING KIT" to replace OEM awning lighting that had dimmed to almost nothing within 18 months of use. I have a 2015 Keystone Laredo - the Boogey Lights have at twice as many LEDs as the OEM LED strip. Packaging for components was very well designed. Instructions were comprehensive and detailed with lots of underlying explanations covering "how", "why" and with viable installation alternatives. Though installation is oriented around using a 3M adhesive to affix the LED strip to the body surface underneath the awning, the Laredo had a built-in plastic tray tray the same width as the Boogey Lights LED strip. After pulling the old LED strip out, I was able with silicon lubricant to slide the Boogey Lights LED strip into the tray very easily. I was also able to use the same 12V wiring already in place. Very happy with the product and the result!

Single color RV Lights (Blue)

Posted by Steve on 25th Aug 2016

Installed these on my 5th wheel. Wired them to only light one of the three diodes so as not to be too bright. Perfect brightness to relax under at night and the blue lights do not attract bugs like the hot white ones. Love them.

Works Great, Quality Parts

Posted by Steve Nielsen on 9th Jun 2016

I have installed two sets of these lights and they work perfectly. They are very bright at full power so we usually run them turned downed a notch or two. I compared the Boogey Lights to some cheaper types from ebay and the backing on the Boogey Lights is far better and it was the only kit that included the 3m primer to use as part of the install. I installed one set under the awning and one under the motorhome to use as a night light.

Single LED kit works great.

Posted by Unknown on 23rd May 2016

Easy to install and works great. Just completed the first camping trip using the boogey lights and I am very pleased. I ran the lights 4-5 hours every night without using hardly any 12v power loss. I usually ran the lights dimmed down 2 settings because that provided more than enough light.

BadAss Boogey Lights

Posted by Shane Lindsay on 10th Mar 2016

Finally got awning lights installed..
Bad weather here..
They look great! Installed easy by following the detailed instructions. Will be a return customer and recommend to others..


Nice product

Posted by Scott on 5th Nov 2015

Haven't installed them yet due to the cold and wet weather, but the package arrived quickly and I tested the product like was suggested and it works nicely. The instructions seem thorough and straightforward. I look forward to installing them soon.