Product Description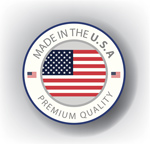 Made in the USA!
The new standard in low cost, small motorcycle LED pods! Four bright surface mount LEDs in a watertight plastic case. Highly reliable in any environment, including marine.
Includes
One (1) - 4-LED Grenade in your choice of color in a watertight plastic case
Life Time Original Owner Warranty
Typical Installation
The TNT Grenade is sealed in a watertight plastic case so you can put these anywhere on your bike. Great for placing in the "hole" to light the back of the engine. For locations where the fixture may be visible (i.e. on brake calipers) we offer a stainless steel case in chrome or black powder coat.
Quick Specs
Each light pod includes 4 full size, incredibly bright, surface mount technology (SMT) LEDs
Stays cool to the touch (compare with other high-power small pods that run very hot)
Draws just 40 milliamps (.04 amps) of power
Waterproof / heatproof design for trouble-free operation in harsh environments
Physical dimensions: 1-1/2" L x 1/2″ H x 5/8″ W
35" Black power lead with 2-conductor wire (red and black)
Optional stainless steel case available in black or chrome finish
Attaches with 3M double-sided VHB tape (sold seperately)
Attach with 3M Tape and Promoter Don't forget to order our 3M Double-Sided Tape and Promoter Kit to attach your pods to your bike. Using authentic 3M automotive adhesive tape ensures that these lights will stay where you put them for as long as you own your bike. One kit will attach up to 10 grenades.
If you have steel braided brake lines, you'll want to order the Front Wheel Wiring Kit with 6' Steel Braid. This kit includes the tape and promoter, chrome wire ties and 6' of steel braid.
Stainless Steel Covers Check out our optional Stainless Steel TNT Stick and Grenade Cases in chrome or black powder coat. Great for covering a pod that's placed where it can be seen (i.e. on brake caliper). Will never rust or deteriorate.
Warranty Information
Original Owner Lifetime Warranty
Other Details
AMPS:
Each TNT Grenade only draws .04 amps of power
DIMENSIONS:
1-1/2" L x 1/2″ H x 5/8″ W
UPC UV/Purple:
812928020615
Product Reviews
This product hasn't received any reviews yet. Be the first to review this product!