Save!
Golf Cart Add-On LED Strips (Multi-Color)

Golf Cart Add-On LED Strips (Multi-Color)
Want to add more LEDs to your Golf Cart lighting setup? Your imagination is only the limit when it comes to the possibilities! We offer multi-color RGB ADD-ON LED Strips for our Under-Glow Golf Cart kit. They're offered in both Black and White PCB. Available lengths are 2' and 4', each with 10' color matched power lead. The 2' LED strip has 36 LEDs and the 4' LED strip has 72. Each strip has authentic 3M industrial strength backing tape affixed to the back of the strip making them easy to install. Installation supplies includes 3M promoter. If you are adding more LEDs, make sure the controller you selected in the Under-Glow kit is capable of powering your configuration. This is an ADD-ON kit. It requires the Golf Cart Under-Glow LED kit to power it.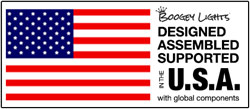 Some photos customers have shared with us of their Golf Carts lit with Boogey Lights® .
...