Cut N' Click™ Single Color Trike Kit
Product Description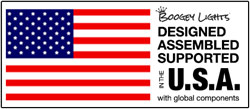 Our best selling LED engine kit is now available for TRIKES! Perfect for Harley trikes and conversions. Our trike kit is customizable which allows you to specify exactly what type of LEDs and how many you want to add for a unique look just for your ride. Plus, you'll save by purchasing the kit instead of buying the individual components.
Our Cut-N-Click™ LED Lights are truly in a class of their own because of their ease of installation and original-owner lifetime warranty. This is why they are the professional's choice for LED motorcycle accent lighting. Simply cut the strips to achieve the perfect fit and connect to power using the cut segment's on-board connector. You can run power from one strip to the next using our thin connection wires thereby minimizing clutter under the seat. If you need to remove your tank for service, unplug the power wire at the LED strip. This unique modular design makes installation and service a breeze. NOTE: If you ride in an area where you will encounter salted roadways or in coastal areas with heavy salt in the environment you might want to consider our Value Series lights strips. Those strips are sealed and will withstand moisture intrusion/corrosion much better.
Base Trike 117 LED Lighting Kit Includes
Two (2) - 39-LED Cut N' Click™ Strips in your choice of color for the Engine and Ground Effects
One (1) - 39-LED Cut N' Click™ Strip in your choice of color for Rear Ground Effects
Basic trike wiring kit that includes (1) 22" power lead, (2) 39", (1) 12" and (3) 15" connector wires, 6' LED extension cable, push button on/off switch, in-line fuse and installation instructions
Original Owner Lifetime LED Warranty - Does NOT cover corrosion of the power connections
Trike LED Lighting Kit Options
Depending upon your trike configuration, we offer additional options you can add to our base trike kit. Here's the list of the options we have selected to add to your kit:
Extra LED Strip - 1 or 2 Extra strips for additional lighting
Wheel Lights - 1, 2 or 4 Wheel lights depending on your application. Most trikes will have 2 calipers up front and 1 or 2 out back. Choose the case finish needed for your trike. Includes mounting supplies
Front Wheel Wiring Kit with Steel Braid - A must have for those with braided brake lines up front. Includes mounting supplies, 6' of steel braid and chrome ties
Remote Control - No remote is included with the kit. Choose from our basic on/off, our PLUS series multi-function or Bluetooth remotes
Install Supplies - Includes 2 tubes of promoter, an assortment of connector wires and 4' of two conductor LED extension wire
Remote Control Options
This kit includes a pushbutton on/off switch. For added convenience, consider purchasing one of our remotes to control your lighting. Here is a review of what's available for single color lights for this kit:
On/Off Wireless Remote Control - Simple to use. Turns the lights on and off. Also has a 30 minute timer to avoid running down your battery
Single Color Multi-Function Remote Control w/2 FOBs - Not only can you turn the lights on and off you have additional features that include flashing, strobing, breathing and fading. A real head turner! Choose from our PLUS (300 LEDs) or our SUPER (900 LEDs).
Bluetooth 4.0 Remote - Use your smartphone to operate your lights. Wire your lights to different zones on this remote to have control over what to light. Includes the same features as our FOB version above. Available in PLUS (300 LEDs) or SUPER (900 LEDs).


NEW! - 3 ZONE WIRELESS BLUETOOTH CONTROLLER OPTIONS
SUPER Series Bluetooth 3 ZONE Smartphone Controller for Single Color Installations - This new 3Zone Bluetooth controller gives you an incredible amount of control over single color installations using your smartphone. Designed with creativity in mind, this Bluetooth controller allows you to isolate up the three zones of single color LEDs and then control each of those zones independently with your smartphone. Rated for 900 LEDs. The controller is a bit larger at 4-1/4" x 2-1/4" x 7/8" so make sure your installation has adequate mounting room.
HEAVY DUTY Series Bluetooth 3 ZONE Smartphone Controller for Single Color Installations - The same features as our SUPER, just more power! Rated for 2100 LEDs. This HEAVY DUTY controller is ideal for those single color installations where you have ample room for mounting and adequate power (10amps at least). This controller is the largest in our controller series measuring 5.5" long x 3.25" wide and 1.5" high. Note that the overall length to accomodate room for wires is 7.5" so make sure your installation has adequate mounting room.
Suggested Placements

Not sure what to order? Here are some suggestions.

The trikes pictured above with our Trike Kit are DFT Trike conversions. They are using the following light configuration:
Our base Trike Kit as specified above.
Front wheel 9 LED pods (2) on front brake calipers
Rear Wheel Light LED Strip
The design of the DFT Trike allows for the rear wheel LED strip to wrapped around the axle tube on each side such that the light shows through each wheel giving it a distinct and unique look.
For a Harley trike, the following lighting configuration is suggested:
Our base Trike Kit as specified above.
Front wheel 9 LED pods (2) on front brake calipers.
One extra LED strip mounted between the two exhaust pipes.
Optional - depending on the clearance between the rear wheel and the brake caliper, you can mount a 9 LED wheel pod on the caliper each side.

Need additional assistance? Give us a call and we'll be happy to assist!

Why Cut N' Click™

Our Cut N' Click™ LEDs are significantly brighter than the more common 3mm LEDs found in several motorcycle lighting products. They're mounted on a flexible strip you can cut into pieces of 3-LED multiples to fit anywhere you want to put them. Each 3-LED segment has a self-locking connector plug that allows you to easily connect segments to one another. This modular design eliminates the wire clutter you get from strips or pods that each have their own long wire lead to run back under the seat.
Regardless of competitors' claims to offer more for less, our Cut N' Click™ flexible 5mm LED strips outclass all varieties of surface mount, 3mm, and 5mm flexible LED strips on the market. Unlike others who offer the cheapest products available from China, we pay more to source the best LEDs the market has to offer. If a product's price seems too good to be true, it probably is!
As an educated consumer it's also important to understand that while the physical appearance of others' products may be similar, or even identical to ours, they are typically using much cheaper LEDs that are less intense and produce a "dirty" lighting effect rather than a smooth, even glow. Don't be fooled by others' "brightness guarantee" or some other gimmick to get your order. Smart shoppers know you'll never go wrong with Boogey Lights®. Our products, our lifetime warranty and our customer support have all stood the test of time.
Warranty Information
Original owner lifetime warranty on LEDs. Covers manufacturer defects but does not cover corrosion of the connector sockets.
Find Similar Products by Tag
Product Reviews
This product hasn't received any reviews yet. Be the first to review this product!
Customers also viewed