LED Kits for RVs, Campers & Trailers
LED Kits for RVs, Campers & Trailers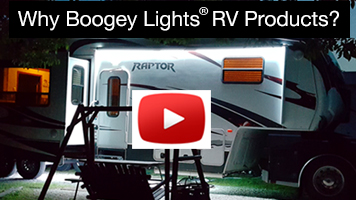 In this video we do a side-by-side comparison of Boogey Lights® RV LED lighting products and the leading RV LED awning product sold by most RV dealers and online camping stores. We think you'll agree the differences are significant.

Since 1989 Boogey Lights® has been the leader in accent lighting for the motorsports industry. We literally invented the category way back in 1989 when we first installed neon lights on motorcycles. No one has more experience or has done more installations of accent lights on motorcycles than Boogey Lights®!
Now, we've taken our 25+ years of motorsports accent lighting knowledge and adapted our robust LED and hi-tech controller technology to the world of RV accent lighting. Boogey Lights® LED lighting kits for RVs represents the next generation in LED lighting for RVs, Campers, Motorhomes and Trailers.
Our AWNING LIGHT and UNDER-GLOW LIGHT kits are specifically designed to withstand the harsh operating environments often associated with motorsports applications. If you take pride in your RV and want to add a high quality, robust, state-of-the-art LED product that not only enhances your RV's look but also adds functional lighting you control, Boogey Lights® RV, Camper and Trailer LED Light Kits are the answer.

Boogey Lights® RV Awning and Under-Glow Lights can be controlled wirelessly using the included key fob controller. We also offer an optional Smartphone controller. You can control the lights using your Bluetooth 4.0 enabled Android or IOS smartphone.
WHY BOOGEY LIGHTS® RV & CAMPER LED LIGHTING KITS?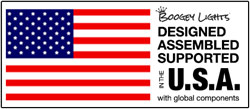 Think all RV LED lighting products are the same? THINK AGAIN!
The vast majority of LED lighting products being sold to the RV market today are designed and engineered for INDOOR use. They're not engineered to withstand the harsh outdoor environments where Boogey Lights® products have been time-tested on everything from motorcycles to boats to cars to ATVs for more than 25 years. The LEDs and electronic components we use are of the highest quality manufactured specifically for Boogey Lights®. We source our product components directly. No middle man, jobber or distributor. Our products are not cheap, mass-produced knockoffs often found on EBay®, Amazon or similar discount marketplaces. Sorry - a $40 LED strip sold on EBay or Amazon is not even close in terms of quality, capability or brightness to what you see here. Anyone claiming otherwise simply hasn't done their homework. All Boogey Lights® components are manufactured to our exacting standards specifically for us and specifically for our application. We only use quality, high-intensity 5050 LEDs manufactured by one of the world's leading manufacturers based in Japan. This is why our LEDs are so bright compared to the dull and dirty LEDs found in the leading RV awning light products sold by most RV dealers and popular online camping stores. If you view the video on this page you'll quickly see the difference in brightness and intensity of the Boogey Lights® LED product versus what's being sold elsewhere.
The Printed Circuit Board (PCB) material we use too is of the highest quality, designed to operate in harsh outdoor motorsports environments. The thickness of the PCB is important because it is what contains the electrical wires that carry current to the individual LEDs mounted to the strip. Most RV LED awning light products use a low grade PCB which is thinner and frail. This thin PCB works fine for stationary indoor applications but it's a bad idea for outdoor applications on vehicles that move, flex and vibrate. Little wonder even after a brief period of time the leading RV LED products sold by RV dealers today fail.
The adhesive backing on our LED light strips is also the best available. We only use genuine 3M® products (sadly, counterfeit products masquerading as genuine are widely used by many manufacturers to cut costs.) We also add extra thickness which is why our light strips stay stuck! Look on any website selling RV LED Awning or Under-Glow light strips and if they're honest, the number one complaint from customers is they don't stay stuck. The next most common complaint is the quaility. It's just not very good. The customer often experiences problems with the product within the first few uses.
There's a reason customers are complaining. The quality of the materials used in the manufacturing of LED light strips and controller components is important particularly when used outdoors on a vehicle that moves, flexes and vibrates. Heat, cold, wind, rain, dirt and vibration are major factors that must be taken into consideration. Cheaper brands don't pay attention to these important details because it costs more. Sure, Boogey Lights® RV outdoor lighting products may cost a little more but they'll be the last RV or camper LED lights you'll buy! At Boogey Lights® when it comes to sticking lights on vehicles that move we absolutely know what works because we've been doing it for more than 25 years.

For an indepth look into why Boogey Lights® RV Lighting products are the absolute best RV lighting products on the market today, visit Why Boogey Lights® RV & Camper Lighting Kits.
ATTENTION RV DEALERS! We're actively looking for established RV dealers to sell, install and service our line of RV products. If you care about the quality of the products you offer to your RV customers, we absolutely want to talk to you. We aren't the cheapest product on the market but we are the best. We offer a time-tested proven product, quick-ship, great margins, free retail-packaging, free shipping, toll-free technical support and world-class customer service. PLUS ... all of our products are designed, assembled and supported by Americans in the USA here in Florence, KY. Interested? You can find dealer program information and an application here.