RV Multi-Color LED Awning Kit
RV Multi-Color LED Awning Kit
Product Description
April 2, 2017. We are out-of-stock on BLACK PCB LED strips used in our Awning, Under-Glow and 16' ADD-ON Strips. We expect to receive more inventory the week of April 17. Orders will be processed in the order in which they are received. As an alternative, you can order these same strips on WHITE PCB which is in stock.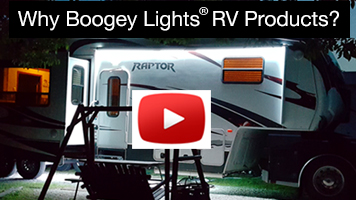 In this video we do a side-by-side comparison of Boogey Lights® RV LED lighting products and the leading RV LED awning product sold by most RV dealers and online camping stores. We think you'll agree the differences are significant.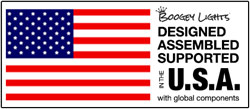 MULTI-COLOR LED AWNING LIGHT KIT FOR RVS, CAMPERS & TRAILERS
The Boogey Lights® LED awning light kit is designed to attach to the side of an RV, trailer or camper just beneath the awning. Each LED strip is 16 feet long and can be cut if needed to fit your application. On full power it provides an incredible amount of light in a wide variety of colors you control with the included wireless remote control or optional wired or smartphone controller. The above photos show our optional UNDER-GLOW LED kit which is affixed to the bottom of the RV shining down on the ground.
We offer our RV Awning Light Kit with the following controller options:
Wired 3 Key Controller (downgrade option - save $5)
Wireless RF Controller with M7 style remote (our most popular standard awning kit - only $149.99)
Wireless RF Controller with 2 KEY FOBS (optional smaller remote control, same price)
Wireless Bluetooth Controller. Use your own Bluetooth enabled smartphone and our FREE APP (upgrade option). This is a Bluetooth ONLY controller.
Wireless COMBO Bluetooth Controller and M7 style RF remote. This controller combines both Bluetooth (use your own smartphone) and RF wireless technologies (M7 remote included) in one controller unit (upgrade option).
Wireless COMBO Bluetooth Controller and two KEY FOB RF remotes. This controller combines both Bluetooth (use your own smartphone) and RF wireless (KEY FOB included) technologies in one controller unit (upgrade option).

All Boogey Lights® controllers operate on 12vdc which is readily available on just about any RV. We also offer an optional 110vac to 12vdc power converter if desired.


Boogey Lights® RF Controllers (both the KEY FOB and M7 controllers) displays seven colors:
RED, GREEN, BLUE, WHITE, LIGHT BLUE, BOOGEY LIGHTS GREEN (LIME GREEN/YELLOW), HOT PINK/PURPLE

The lighting effects options for our M7 and KEYFOB RF Conrollers include:
DIMMING, FADING, BREATHING, STROBING
The M7 remote control offers SEVEN levels lighting effects (e.g. 7 levels of dimming) whereas the KEYFOB remote control offers 4 levels.

UPGRADE TO SERIES 2 BLUETOOTH + RF COMBO
Now with Programmable Color Rotation Feature.

With any of the Boogey Lights® BLUETOOTH controllers you can control your awning lights with your Bluetooth 4.0 enabled Android or IOS smartphone. These high-tech controllers are capable of displaying 16 million different color combinations. In addition, lighting effects on the Smartphone controller are signficantly more controllable in terms of speed and intensity. Each color and lighting effect is controlled by "sliders" or a color square on your smartphone screen so you can adjust the speed and intensity to get the lighting exactly the way you want it. Our controllers operate on 12vdc which is readily available on just about any RV. Also, all of our SERIES 2 Bluetooth Combo controllers include an RF remote control allowing for quick on/off of the controller. You can operate this controller with the included RF wireless remote (your choice of M7 or KEYFOB remotes) OR you can use your Bluetooth 4.0 enabled smartphone and our free smartphone APP (Android and IOS). We also offer an optional 110vac to 12vdc power converter if desired.
NEW! SERIES 2 FIRMWARE - PROGRAMMABLE COLOR ROTATION.

With the introduction of our new SERIES 2 controller firmware in January 2017 the Boogey Lights® Bluetooth APP and controller now offer the ability to program the controller to display two or three colors of your choice and then rotate those colors in sequence. For example, let's say it's Fourth of July and you want your lights to rotate through the color sequence of RED, WHITE and BLUE . Or, perhaps your favorite sports team's colors are Red and White and you want your RV or motorcycle to continually rotate through a color sequence of RED and WHITE. This SERIES 2 firmware controller and smartphone APP will do that - and more. You can for instance vary the speed of the sequence as well as the brightness. You can also choose from one of two different sequencing effect modes: BREATHING or ROLLING. Additionally, you can save these configurations in up to 3 presets such that you're able to recall the lighting configuration with a press of a button. This functionality only works when using your Bluetooth device - not with the included RF wireless remote control.
NOTE: If you purchased one of our Bluetooth controllers after August 1, 2016 you can exchange your existing controller for the new SERIES 2 Bluetooth controller for a $25 upgrade fee. Contact us for details.
STANDARD LED AWNING KIT - WHAT'S INCLUDED
Our STANDARD awning light kit includes the following:
1 - Multi-color (RGB) LED light strip with 300 super bright LEDs in your choice of black or white PCB (printed circuit board - see note below). Total length is 5 meters (about 16 feet) and can be cut every 3 LEDs if so desired. Each strip has authentic 3M industrial strength backing tape affixed to the back of the strip. Each LED strip has 15' of additional power lead cable (color matches the PCB color). Additional power lead cable can be purchased if needed.
1 -

Multi-Color Wireless Remote Control

with your choice of either our popular M7 TV STYLE remote control or compact KEY FOB remote control. Max draw is 2amps per color zone (6amps total) at 12vdc.
3M promoter tubes used in preparing the surface of your RV before affixing the LED strip.
Wiring kit and connectors
STANDARD LED AWNING KIT NOTE: Instead of the WIRELESS Remote Control you have the option of selecting our 3 KEY WIRED REMOTE CONTROL. Some customers prefer this wired version (versus the wireless) as it simplifies the operation of the lights by eliminating the wireless remote. The lights are controlled by pressing a button on the control box. With the wired remote control you can control the color, mode and speed. Use the included pushbutton switch to power it on or off. Note: The switch and the control box needs to be mounted in a location you can access to control the lights.
WANT MORE POWER TO HANDLE MORE LIGHTS?
No problem! While most installations only require one 300 LED strip (about 16' long), there may be instances where customers have a longer awning and want to power additional LEDs. For those situations we offer these two CONTROLLER upgrade options to handle the additional power requirements (ADD-ON LED strips need to be purchased separately):
Upgrade to our RF Wireless SUPER Version Controller (supports up to 600 LEDs - 2 strips, add-on strips need to be purchased separately this is just the controller upgrade)
Upgrade to our COMBO BLUETOOTH + RF Wireless SUPER Version Controller (supports 600 LEDs - 2 strips, add-on strips need to be purchased separately this is just the controller upgrade)

ADD-ON LED LIGHT STRIPS

This Awning Kit inlcudes ONE 300 LED Strip. We offer ADD-ON multi-color LED light strips which can be purchased separately. Our ADD-ON strips available in WHITE and BLACK PCB and in lengths of 4', 8', 12' and 16'. You have your choice of 10', 15', 25' and 50' color match power leads. If purchasing an ADD-ON strip, make sure you are purchasing an upgraded controller to handle the additional power requirements. If you have questions about this, please call us.

BLUETOOTH WIRELESS CONTROLLER: With any of our BLUETOOTH controller options the kit includes everything our Standard kit has except you can upgrade to your choice of one of our BLUETOOTH enabled controllers. These high-tech controllers will allow you to control the operation of the LED Awning Lights using your Bluetooth 4.0 enabled Android or IOS smartphone. You provide the Bluetooth Low Energy (BLE) equipped smart phone with Bluetooth 4.0. The Apple iPhone running iOS 5 or higher (iPhone 4S, iPhone 5 and iPhone 6 ) and Android® phones running version 4.3 (Jellybean) or higher typically have the Bluetooth 4.0 technology (Sorry, if you have a flip phone it won't work.) The Boogey Lights® smartphone APP is FREE and can be downloaded directly from the Google Play Store or Apple iTunes.

Upgraded LED Awning kit also includes:
Android and Apple IOS APPs have to be downloaded (FREE) from their respective app stores (Google Play Store and Apple iTunes App Store).
For an indepth look into why Boogey Lights® RV Lighting products are superior, visit Why Buy Boogey Lights® RV & Camper Lighting Kits.
WHY DOES THE PRINTED CIRCUIT BOARD (PCB) COLOR MATTER?
LED lights are mounted to a Printed Circuit Board (or PCB for short). The color of that PCB makes a difference in how the finished installation looks in the daylight. Our LED light strips come in two versions to match the surface the strip will be attached to. If you have a light colored RV, you will probably want to order the WHITE PCB light strip. If you have a dark colored RV, you will probably want to order the BLACK PCB light strip.

PLEASE NOTE: The environmentally safe epoxy coating used to seal our LED strips will tend to have a yellowish tint over time – typically in a year or so. It will be more noticeable on LEDs mounted on white PCB vs black PCB. This yellowing does not impact the functionality of the LEDs. Also, strips that are exposed to UV sunlight won't tend to exhibit the yellowish tint as much as those that are used indoors.


NOTE: All Boogey Lights® LED strips are COMMON CATHODE LEDS. They share a common ground and will only work with positively switched controllers. Most LED strips on the market today are COMMON ANODE because the controller technology used to power them is less expensive to manufacture. However they're not nearly as bright and are an overall inferior design when compared with COMMON CATHODE LEDs.
OTHER OPTIONS
There are a number of options available which you may wish to consider. If you have a question as to what you need, call us! We're here to help.
INSTALLATION TIPS
Installing the Boogey Lights® LED awning kit is relatively simple. Typical installation time is about 90 minutes. Some things to keep in mind before you start.
WE STRONGLY SUGGEST BENCH TESTING YOUR LIGHTS AND CONTROLLER BEFORE MOUNTING! We cannot emphasize this enough. Probably 95% of all calls we receive from customers are about problems or issues that could have easily been avoided had the customer taken the extra 15 minutes to bench test their lighting setup before installation. Not only does bench testing give you an opportunity to understand the configuration, it also will flush out any problems or misunderstanding about the product and use before mounting.
Make sure you know where your electrical connection will be. Most RVs (motorhome, travel trailer or fifth wheel) have an electrical access panel somewhere on the side of the RV where 12vdc power is available.
Decide how you are going to connect the power lead coming from your LED light strip to the power source. Many RV awnings (particularly motorized awnings) have a mounting bar that is already affixed to the side of the RV. If so, you can usually run the power lead cable coming from the LED light strip inside that mounting bar. If not, you can use some flexible Wire Trak™ raceway to hide the power lead cable. The Wire Trak™ raceway uses the same 3M tape technology our Boogey Lights do so it's easy to affix the raceway to the side of your RV.
The only way to ensure the LED light strip stays stuck to the side of your RV is to make sure you prepare the surface in accordance with the directions. Every LED light kit we sell includes 3M promoter (aka "primer"). It's absolutely critical the surface be prepared using this special 3M promoter and that you follow the directions provided with every light kit.
If you need to cut the LED strip, make sure you do it before affixing to your RV. Our LED strips can be cut every 3 LEDs and are clearly marked.
We have had customers install the awning light to the end of the awning on the roller instead of to the side of the RV/Camper. The challenge with this installation scenario is running the power lead back to the RV. There are a couple of options, one of which is to use one of our quick-disconnect connectors but of course you have to disconnect/reconnect the power cord every-time you want to use it. The other is to snake the power lead wire through the seam on the side of the awning material.
When in doubt, call our technical support team! We're the experts. We've done this thousands of times. We know what works.
AMPERAGE Data for all Boogey Lights products can be found on our website.
RV, MOTOR HOME, CAMPER CUSTOMER PHOTO GALLERY
Here are some photos customers have shared with us of their RV's lit up with Boogey Lights®
...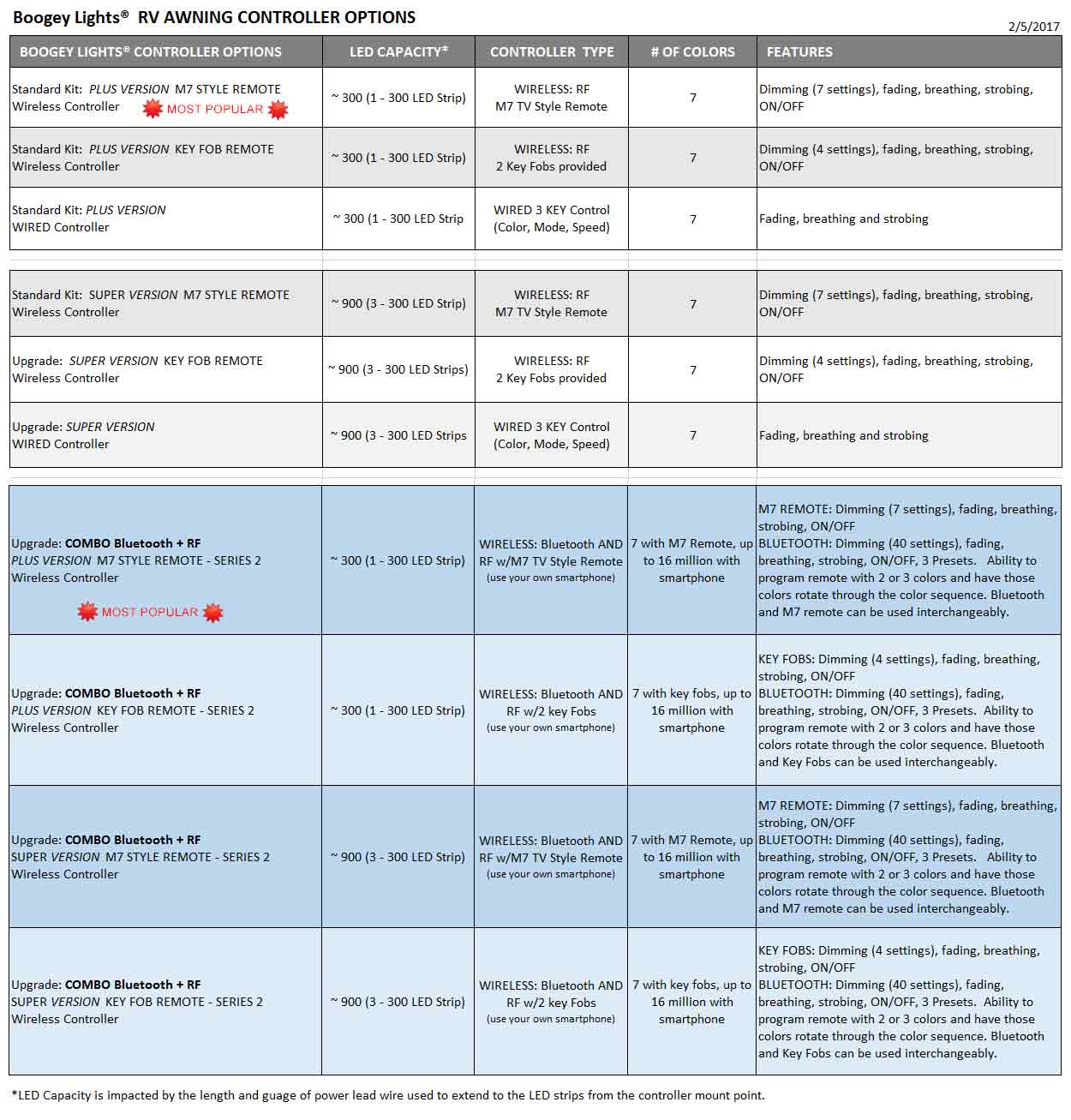 Warranty Information
Original Owner Three (3) Year Warranty on the LEDs and Controller
Product Reviews
Showing reviews 1-20 of 36 | Next
Outstanding customer service

Posted by Unknown on 21st Apr 2017

I tried to use the generic awning lights. I went through 2 sets in 2 years. The 3rd time I found Boogey Lights. The sealed connections and the rf remote made all the difference. They are brite enough to play cards at the outside table. It works perfect year after year. But the customer service is unmatched. They are by far the best I have come across. Im a picky buyer. I do my research. I recommend Boogey Lights.

Excellent Product. Truly the Best.

Posted by Dan on 2nd Apr 2017

Excellent product. When they say their's is the best on the market in all comparable categories, it is so true. I bought the cheap ones from one of the competitors the first go around, let me give you some good advice, don't waste your time. These are truly the best. These come custom fit and prepared to your specs. I had a few questions about my design and with the help of one of the company reps my order was simple design for him and very simple and easy to install. Get on the phone, order you and see for yourself. You will be impressed.

Love the way the lights look.

Posted by dackakn on 9th Mar 2017

The instructions were easy to follow as well as the suggestion to run the cable down the awning track helped me decide how I was going to install the lights. Thinking about purchasing an additional set to install on my pool deck.

They are Great

Posted by Bobby P. on 6th Mar 2017

Hey just want to let you know I installed the Boogey Lights awning light and they are great !! Recommend everyone to get them. They are as good as they advertise and easy and quick to install. So much better then any other ones I looked at. I'm thinking about getting some for under lighting for my RV.


Great product indeed!

Posted by John S. on 5th Feb 2017

I had been looking at the awning light set for a while. We bought a new coach and I happen to see these at the big Tampa RV show in person a few weeks ago while looking for accessories for it a few weeks ago. I finally decided to buy them and was impressed from the minute I opened the box. Your introduction letter is perfect. The remotes are awesome. The instructions are spot on and I did read them, and followed them. I spent the afternoon installing them (more time was spent figuring out where to place the controller than anything). I'm impressed! Not only by the packaging and presentation but by how bright they truly are (way better than others I had tried on our older coach). You have a great product and while it's priced a tad higher than others, those that do purchase it will be glad they did. I'm looking forward to adding your under-glow product on our coach next! Great product indeed!

Wonderful light

Posted by Vern on 15th Dec 2016

These led strip lights are amazing! I got the combo Bluetooth+ RF and I couldn't be happier. Very easy to follow mounting instructions and the Bluetooth addition makes for easy adjusting with many, many options for color and brightness. I can read the paper easily after dark even with them dimmed a bit.

Better than expected

Posted by Jim on 5th Nov 2016

I installed a set of these multi colored awning lights beneath the awning and was amazed at the brilliant colors and brightness. Very impressed

RV Awning light kit

Posted by John Morris on 21st Sep 2016

The lights work great. The instructions was easy to follow. I installed them with the help of my son. We are leaving tomorrow on a trip. First trip for the new lights. My son like them so well he is going to get a set.

Bright Lights

Posted by Scott Yorty on 19th Sep 2016

Put these on my motor home, I had an install question so I called and the tech person at Boogey Lights walked me right through my question. Installed very easy. We to the Penn State game and got tons of complements on the lights Sat. night.

Awesome

Posted by Tim Balch on 29th Aug 2016

Awesome lights I really light how bright you can have them then you can turn down to a low glow. Installation was so easy. So much better than the others out there

WOW

Posted by Unknown on 18th Aug 2016

These lights are awesome.
Installation was simple.
Options you can make these lights do is crazy.

Simply the best quality

Posted by Donald on 14th Aug 2016

Very easy to install. Does a lot I won't use but the multi colored lights and the dimming is the best. Installation works best with two people. Let's hope they stay working for a long time.

Quality Product, You get what you pay for.

Posted by Dan on 20th Jul 2016

Yes sure you can buy cheaper products that are similar, but the quality, thickness and fit and finish is top of the market. Buy one set and your done, no reason buy an inferior product. Lights are bright, and crisp, no issues. Install was easy, quality is best on market. LED Strip is thick, weather proof. Color is as advertised.

Excellent Product

Posted by Doug on 28th Jun 2016

Purchased the multi-color RV lights about a month ago. Pretty easy to install if you follow the directions. I found it much eaiser if you have two people when you put them up. Have only used them once so far but are very bright! I also like that you can dim them down if you like. Would recommend for anyone looking for lights for their camper.

High Quality Product with Great Install Instructions

Posted by Eric on 24th Jun 2016

Purchased the RV Mutli-Color RV Awning Kit to install under the awning of our travel trailer. The was shipped quickly and arrived as promised. After reading the installation instructions a few times, I mapped out the best way to install the LED's and power source. The install took about 3 hours and a trip to the local hardware store to purchase some additional wiring to run 12 volt power to the power source. I would recommend having 2 ladders and an additional person to help when you install the LED strip to your RV. After installing this product and seeing the high quality of the overall product, I would highly recommend this kit.

Awesome Lights

Posted by Curtis Geib on 16th Jun 2016

This is a very high quality light set. Installation was fairly simple. I purchased the Bluetooth upgrade. I wired everything inside the porch light, which we never used anyway (just attracts bugs to the door!). This kept the wire run short and protects the connections and controller within the light housing. I used some wire track to make the run. Everything works great with nice bright lights and a variety of colors and functions.

Great looking lights

Posted by Unknown on 2nd Jun 2016

They were simple to install, went up on rv with ease. Lites are very Brite and colors look great. Very happy with product

Can't wait to show these off!

Posted by Craig, Vath,& Kaylee on 27th May 2016

Ordered the RV awning light kit. We had an awning light strip that came with the camper, was just a white light strip. The new Boogey Lights are heads and shoulders above the white light strip! All the colors and effects are great and just plain fun. We are using the RF and BT controllers. Our camper came with a LED light strip channel, if I had to do all over, I would have asked for the Boogey Lights without the 3m strip already attached, we had to remove it to fit the installed channel. These lights are the bomb...spend a few extra bucks and you will be really happy!

These light systems are the best I have ever used!

Posted by John McLeod on 21st May 2016

these light systems are the best I have ever used! I put a set on my RV easy install great customer support. I liked them so much I sold a set to my fellow RVer in the space next to me. well worth the price you will not regret buying them. A++++++

Excellent product

Posted by Carlos on 16th May 2016

The lights perform exactly as advertised and look awesome. I had a testing issue which customer service immediately answered and solved for me. I highly recommend them as they will make you RV look great. I only wish they would make one that I can use for my Xmas decorations.
Showing reviews 1-20 of 36 | Next