RV Multi-Color LED Under-Glow Light Kit
RV Multi-Color LED Under-Glow Light Kit
Product Description
April 2, 2017. We are out-of-stock on BLACK PCB LED strips used in our Awning, Under-Glow and 16' ADD-ON Strips. We expect to receive more inventory the week of April 17. Orders will be processed in the order in which they are received. As an alternative, you can order these same strips on WHITE PCB which is in stock.
MULTI-COLOR LED UNDER-GLOW LIGHT KIT FOR RVS, CAMPERS & TRAILERS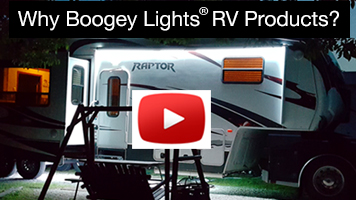 In this video we do a side-by-side comparison of Boogey Lights® RV LED lighting products and the leading RV LED awning product sold by most RV dealers and online camping stores. We think you'll agree the differences are significant.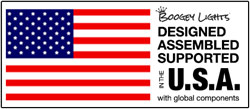 The Boogey Lights® LED UNDER-GLOW RV light kit is designed to attach to the bottom of an RV, trailer or camper. Each LED strip is 16 feet long and can be cut if needed to fit your application. On full power it provides an incredible amount of light in a wide variety of colors you control either with the included wireless key fobs or optional smartphone Bluetooth controller. (The above photos also show our optional AWNING kit affixed to the side of the RV shining underneath the awning. )
We offer our RV Under-Glow kit with your choice of a SUPER DUTY controller or a HEAVY DUTY controller. Our SUPER DUTY controller will power up to 3-300 LED strips. Our HEAVY DUTY controller will power up to 7-300 LED strips. And for each style of controller we offer a RF only (your choice of M7 style remote or KEY FOB remote) and our Series 2 COMBO RF + BLUETOOTH controller which combines the best of both Bluetooth and RF wireless technologies in one controller unit. All Boogey Lights® controllers operate on 12vdc which is readily available on just about any RV. We also offer an optional 110vac to 12vdc power converter if desired.

Boogey Lights® RF Controller (included with our Standard Kit) displays seven colors: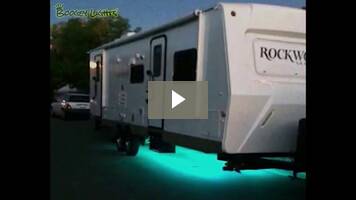 Brief video showing the Under-Glow kit on a 28' travel trailer.
RED, GREEN, BLUE, WHITE, LIGHT BLUE, ORANGE/YELLOW, PINK/PURPLE

The lighting effects options for our Standard LED UNDER-GLOW Kit include:
DIMMING, FADING, BREATHING, STROBING
NOTE: The M7 RF remote control offers SEVEN levels lighting effects (e.g. 7 levels of dimming) whereas the KEYFOB RF remote control offers FOUR levels.
FYI: The above photos show our optional AWNING LED kit which is affixed to the side of the RV under the awning. If you add the optional awning LED kit you can choose to run the awning light on the same controller as the UNDER-GLOW lights OR you can use a separate controller just for the awning LEDs. We prefer to use a separate controller for the awning lights because it gives us more control over the lighting configuration. There are some camping situations where you may not want the UNDER-GLOW lights to be on (or not as bright, or the same color) as what the awning lights are set on. Having the two systems on two different controllers gives you some additional flexibility in this regard. Personal preference only.
UPGRADE TO SERIES 2 BLUETOOTH + RF COMBO
Now with Programmable Color Rotation Feature.

With any of the Boogey Lights® BLUETOOTH controllers you can control your under-glow lights with your Bluetooth 4.0 enabled Android or IOS smartphone. These high-tech controllers are capable of displaying 16 million different color combinations. In addition, lighting effects on the Smartphone controller are signficantly more controllable in terms of speed and intensity. Each color and lighting effect is controlled by "sliders" or a color square on your smartphone screen so you can adjust the speed and intensity to get the lighting exactly the way you want it. Our controllers operate on 12vdc which is readily available on just about any RV. Also, all of our SERIES 2 Bluetooth Combo controllers include an RF remote control allowing for quick on/off of the controller. You can operate this controller with the included RF wireless remote (your choice of M7 or KEYFOB remotes) OR you can use your Bluetooth 4.0 enabled smartphone and our free smartphone APP (Android and IOS). We also offer an optional 110vac to 12vdc power converter if desired.
NEW! SERIES 2 FIRMWARE - PROGRAMMABLE COLOR ROTATION.

With the introduction of our new SERIES 2 controller firmware in January 2017 the Boogey Lights® Bluetooth APP and controller now offer the ability to program the controller to display two or three colors of your choice and then rotate those colors in sequence. For example, let's say it's Fourth of July and you want your lights to rotate through the color sequence of RED, WHITE and BLUE . Or, perhaps your favorite sports team's colors are Red and White and you want your RV to continually rotate through a color sequence of RED and WHITE. This SERIES 2 firmware controller and smartphone APP will do that - and more. You can for instance vary the speed of the sequence as well as the brightness. You can also choose from one of two different sequencing effect modes: BREATHING or ROLLING. Additionally, you can save these configurations in up to 3 presets such that you're able to recall the lighting configuration with a press of a button. This functionality only works when using your Bluetooth device - not with the included RF wireless remote control.
NOTE: If you purchased one of our Bluetooth controllers after August 1, 2016 you can exchange your existing controller for the new SERIES 2 Bluetooth controller for a $25 upgrade fee. Contact us for details.
For an indepth look into why Boogey Lights® RV Lighting products are superior to virtually every other brand on the market today, visit Why Buy Boogey Lights® RV & Camper Lighting Kits.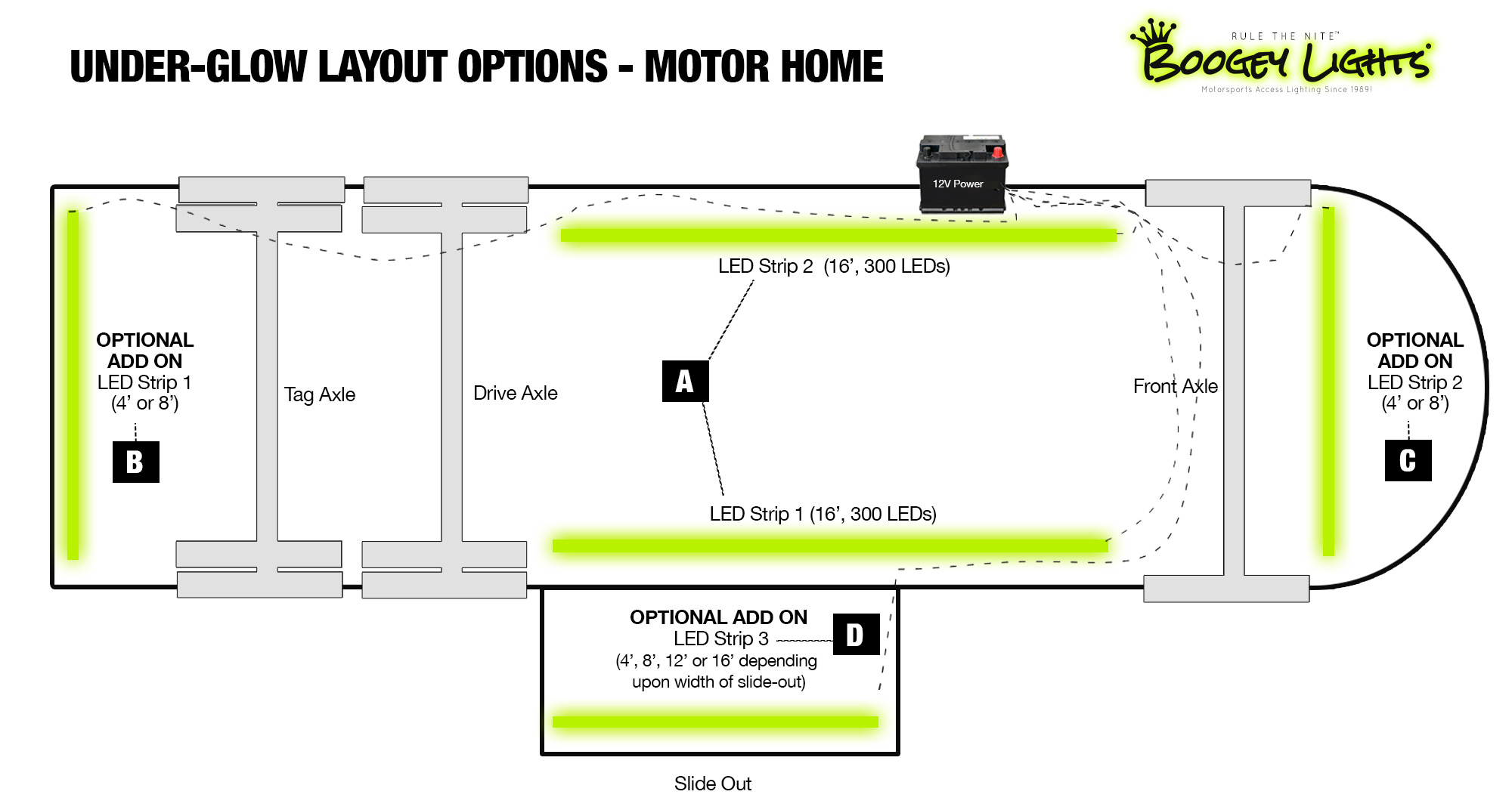 TYPICAL INSTALLATION OPTIONS
There is no set installation configuration. Whether you have a motor home, bus, 5th wheel, tag-along travel trailer, utility trailer, food truck or semi-truck the configuration concepts are pretty much the same. Your rig and your imagination are the only limits. Using the above diagram, here are some typical installation ideas to consider which have worked well for other customers.
STANDARD INSTALLATION - 2 HI-INTENSITY LED STRIPS
A: The standard Under-Glow kit includes two, super bright 16' LED light strips (each with 300 LEDs). These two strips are typically mounted (centered) between the front axle and the rear axle. While the distance between the front axle and the rear axle might be longer than 16', most customers find that the two16' LED strips provide more than enough light for the area between the front and rear axles.
WANT MORE LIGHT? ADD FULL PERIMETER LIGHTING
B & C: For additional light, you can add a 4' or 8' LED light strip at the rear and / or the front of the coach to provide full perimeter lighting. These ADD-ON strips come with your choice of a 10', 25' or a 50' power lead to accommodate almost any motor home configuration. The power leads need to run back to the 12v power source where the controller is located.
SLIDE-OUT LIGHTING OPTION
D: Depending upon the width of your slide-out you can add a 4', 8', 12' or even a 16' ADD-ON LED light strip underneath your slide-out to illuminate the area immediately below the slide-out when it is out. The 4', 8' and 12' ADD-ON strips comes with either a 10', 25' or 50' power lead. The 16' ADD-ON strip comes with your choice of a 15', 25' or 50' power lead.

ADD-ON HI-INTENSITY LED STRIPS can be purchased separately.
Some things to keep in mind when deciding how many and what type of LED strips to purchase:

1. Our Hi-Intensity LED strips can be cut every 3 LEDs to accommodate shorter runs.

2. The maximum length of one Hi-Intensity strip is 16'. Multiple 16' strips CAN NOT be daisy chained together. If you want to do a run longer than 16', you can butt two strips together to get the desired length. That said, we've never seen an installation that required doing this for a lack of light. Boogey Lights® LEDs are so bright that one 16' strip should provide more light than you'll need. Simply centering one 16' strip will in most cases be sufficient.

3. The maximum number of 16' LED strips that can be powered at one time depends on which controller you're using. Our Heavy Duty controller will power at least six 16' LED strips. You might be able to get 7 depending upon your wiring. That said, it's possible to add additional controllers and manage those controllers with one RF remote. Lots of possibilities. The limitation ultimately comes down to your power source.

4. Be mindful of where your power source is located as well as where you will be mounting the controller. The power lead for each Hi-Intensity strip needs to connect directly to the controller at your power source. Knowing where your controller will be mounted in relation to where the LED strip will be placed will determine how much power lead cable is needed on each LED strip.
STANDARD LED UNDER-GLOW RV LIGHT KIT - WHAT'S INCLUDED
Our STANDARD UNDER-GLOW light kit includes the following:
2 - Multi-color (RGB) LED light strips with 300 super bright LEDs on your choice of BLACK or WHITE PCB. Both LED light strips mount to the bottom of the RV, camper or tailer. Total length of each strip is 5 meters (about 16 feet) and can be cut every 3 LEDs if so desired. Each strip has genuine 3M super-strong backing tape affixed to the back of the strip. Also, each LED strip has 15' of additional power lead cable. Additional power lead cable can be purchased if needed. You can also add additional LED light strips if you'd like.
1 - Heavy Duty Fireworks Multi-Color wireless remote control with your choice of M7 style remote or KEY FOB remote. Max draw is 5.5amps per color zone (16.5 amps total) at 12vdc. Depending upon the amount of power lead wire used, the controller included with this kit is capable of powering up to seven (7) 300 LED light strips.
Inline Fuse and Fuse Holder
3M promoter tubes used in preparing the surface of your RV, camper or trailer before affixing the LED strips.
Wire ties and wire tie mounts to help secure the power lead cable to the bottom of the RV, camper or trailer.
Wiring kit and connectors
DOWNGRADE OPTIONS
If you're looking to save a few bucks, you can downgrade our Standard Under-Glow kit to use our SUPER DUTY controller instead of the included Heavy Duty controller. The main difference between these two controllers is LED capacity and footprint. The Super Duty controller is a little smaller and will support a maximum of 3 - 300 LED strips whereas the Heavy Duty controller will support at least 6 - 300 LED strips. For this downgraded Super Duty controller, you have the option of ordering it in the RF version (includes 2 key fobs), the M7 RF version (includes the larger format remote control which some folks find easier to use - see photo) or the Combo Bluetooth version (you provide your own smartphone and use our free APP).
UPGRADE OPTIONS
We offer these upgrade options from our Standard Under-Glow Kit. These options include the following:
Upgrade to our COMBO Bluetooth + RF Wireless Super Duty Controller
Upgrade to our COMBO Bluetooth + RF Wireless Heavy Duty Controller
With any of our BLUETOOTH controller options the kit includes everything our Standard kit has except the controller is upgraded to you choice of one of our BLUETOOTH enabled controllers. These high-tech controllers allow you to control the operation of the LED Lights using your Bluetooth 4.0 enabled Android or IOS smartphone. You provide the Bluetooth Low Energy (BLE) equipped smart phone with Bluetooth 4.0. The Apple iPhone running iOS 5 or higher (iPhone 4S, iPhone 5 and iPhone 6 ) and Android® phones running version 4.3 (Jellybean) or higher typically have the Bluetooth 4.0 technology (Sorry, if you have a flip phone it ain't going to work.) The Boogey Lights® smartphone APP is FREE and can be downloaded directly from the Google Play Store or Apple iTunes.
Upgraded LED UNDER-GLOW kit also includes:
Android and Apple IOS APPs have to be downloaded (FREE) from their respective app stores (Google Play Store and Apple iTunes App Store).
NOTE: All Boogey Lights® LED strips are COMMON CATHODE LEDS. They share a common ground and will only work with positively switched controllers. Most LED strips on the market today are COMMON ANODE because the controller technology used to power them is less expensive to manufacture. However they're not nearly as bright and are an overall inferrior design when compared with COMMON CATHODE LEDs.
OTHER OPTIONS
There are a number of options available which you may wish to consider. If you have a question as to what you need, call us! We're here to help.
If you want add more LED strips to your installation, ADD-ON HI-INTENSITY LED STRIPS can be purchased separately. We offer them in 4', 8', 12' and 16' lengths with your choice of power lead lengths of 10', 15', 25' and 25'.
110vac to 12vdc power converter. In situations where you don't have access to sufficient 12vdc power, you can use this 110vac to 12vdc power converter. One converter will power three 300 LED strips. If you want to power four to seven LED strips, you'll need to purchase two converters. They can be used in parallel. Max of two converters per controller.
Four conductor power lead wire available in BLACK and WHITE. Typically used in situations where you need to extend to a power source further away than the standard 15' long power leads will reach.
Wire Trak™ raceway used to hide power wires without drilling into your RV. This convenient, flexible and durable plastic raceway is easy to install (it uses 3M tape just like Boogey Lights® does) and does a great job of hiding the power cables leading up to the LED strip. Makes for a nice finished look.
Waterproof Quick Disconnects. These handy waterproof quick-disconnectors can be used in situations where you want to be able to remove a power lead. These 4 conductor quick-disconnects make it simple.
The Heavy Duty remote control unit included with this kit will depending upon how much power lead you're using, power up to seven LED light strips (300 LEDs per strip) so you can add LED light strips if you'd like.
INSTALLATION TIPS
Installing the Boogey Lights® LED UNDER-GLOW RV kit is relatively simple. Typical installation time is about 90-120 minutes. Some things to keep in mind before you start.
The Under-Glow RV kit is intended to be installed on the bottom of an RV, camper or trailer. Make sure you have adequate area where to affix the LED light strips. The 5th Wheel Toy Hauler appearing in our photos has an enclosed bottom which make it easy to affix the LED light strips to the unit. However not all RVs have an enclosed bottom. If your RV doesn't have an enclosed bottom you'll need to make sure you have sufficient surface area to attach the LED strips. In addition, the area where you are attaching the LEDs needs to be reasonably clean and smooth. If not, the LED strips won't stick.
Make sure you know where your electrical connection will be. Most RVs (motorhome, travel trailer or fifth wheel) have an electrical access panel somewhere on the right side of the RV where 12vdc power is available. If you are going to use 110vac, make sure you have ample room to mount/affix the power converter box. The 110vac to 12vdc power converters we sell for this kit are 10amps. If you are going to max out the heavy duty controller with LED light strips you'll need to run TWO power converters in parallel (for a total of 20amps). If you have questions on this, please call us. We'll be happy to assist you!
Decide how you are going to connect the power lead coming from your LED light strips to the power source. Most RVs have access into the electrical closet from underneath the RV itself. If so, this is the perfect place to run your power cables. Important to remember that the remote control units are not water proof so you want to mount the contoler box in an area that will remain dry.
The only way to ensure the LED light strip stays stuck to the underbelly of your RV, camper or trailer is to make sure you prepare the surface in accordance with the directions. Every LED light kit we sell includes 3M promoter (aka "primer"). It's absolutely critical the surface be prepared using this special 3M promoter and that you follow the directions provided with every light kit. For the power lead wires that feed the LED strip we include some extra 3M tape and zip tie mounts.
If you need to cut the LED strip, make sure you do it before affixing to your RV. Our LED strips can be cut every 3 LEDs and are clearly marked.
AMPERAGE Data for all Boogey Lights products can be found on our website.
When in doubt, call our technical support team! We're the experts. We've done this thousands of times. We know what works.
RV, MOTOR HOME, CAMPER CUSTOMER PHOTO GALLERY
...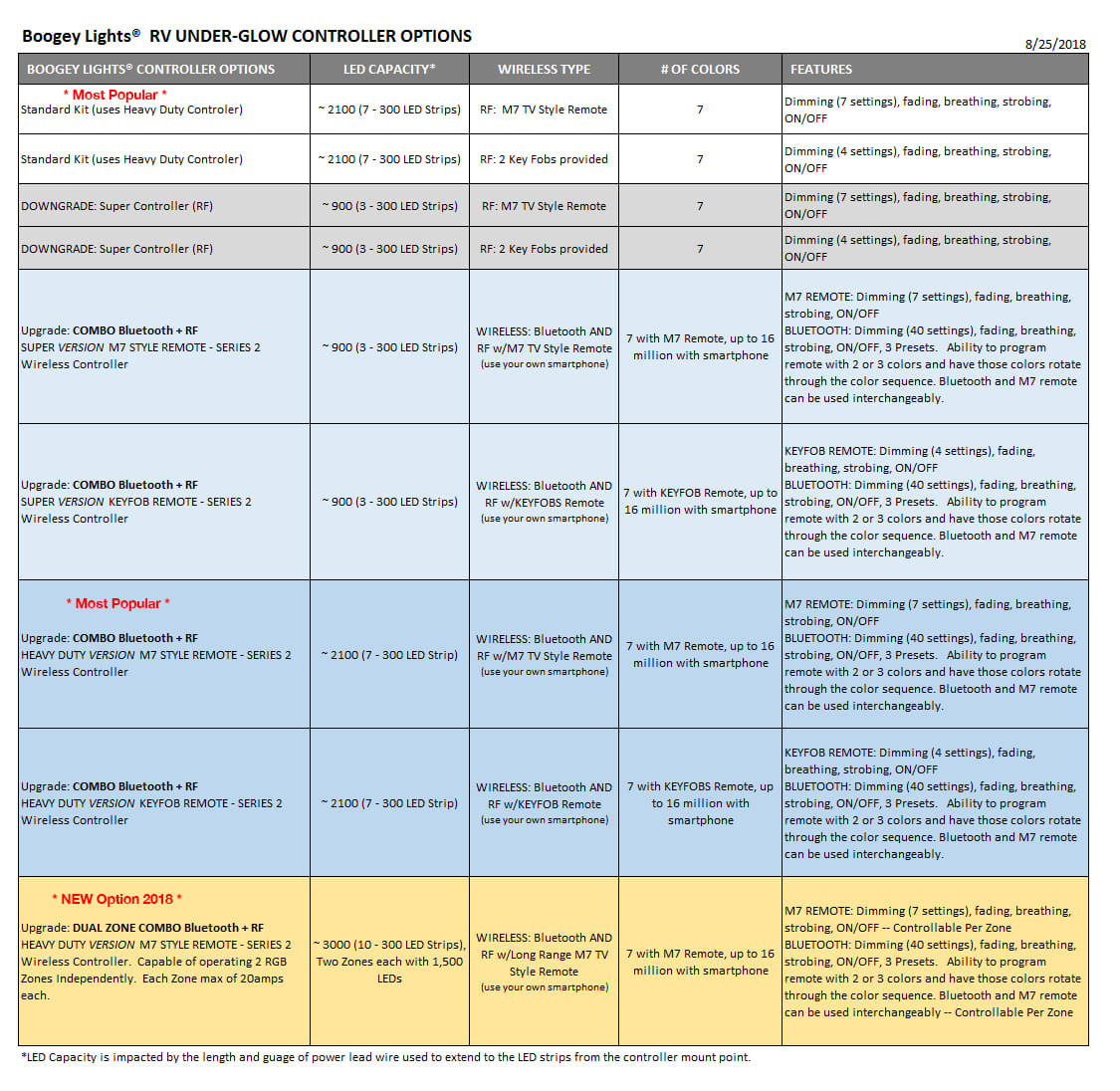 Warranty Information
Original Owner Three (3) Year Warranty on the LEDs and Controller
Product Reviews
Better than expected

Posted by Jim on 5th Nov 2016

It takes patience and planning to install these underglow lights, but the payoff is "HUGE" as The Donald says !

Under Glow Lights are Great

Posted by Brian on 14th Jul 2016

I purchased these a few months ago and finally got around to install them this week. Very easy to install. The LED strip is made much better than the cheap led strips on ebay ( i have purchased one of those for the inside of my RV). I hIghly recommend these. They help light up the RV when there is no other light around you. You can adjust the brightness to your liking.

RV Lighting

Posted by Unknown on 23rd Jun 2016

Very happy with the product quality am looking forward to having them operational to see the results

Great product

Posted by Mike on 28th Apr 2016

The staff at boogey lights is more than helpful and are also very knowledgeable with the installation of this product. Lights installed with ease and look great!

Very easy to install

Posted by Unknown on 9th Nov 2015

Staff very helpful. Took about an hour to install

great! easy to put on

Posted by rick on 18th Sep 2015

The remotes shld have better instruction was my only gripe

rv awning and underglow lights are awsom

Posted by luke on 25th Aug 2015

just installed led strip lights under my awning and Iunderneath my camper, they are way better than I expected. very bright and they make for great atmosphier at the campground. controlling the lights with my cell phone cant be beat. I recommend these products to anyone looking for lighting on their campers or vehicles