BOOGEY LIGHTS® SCHOLARSHIP CONTEST
We will announce our 2020 Essay Contest in August 2020.
Thank you to everyone who entered our 2019 END-OF-SUMMER ESSAY CONTEST. We were absolutely overwhelmed with the number of entries this time around. There were 583 total entries making it difficult to choose the winner. We want to congratulate Matthew P who is attending Fayetteville Technical Community College in Fayetteville, NC. His winning essay is below.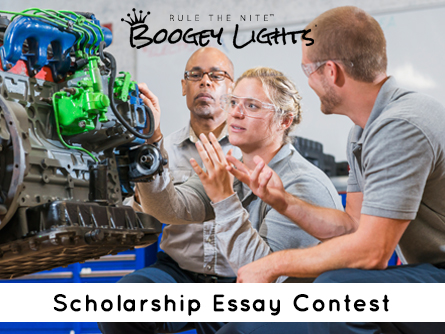 We offer scholarship essay contests at least once per year. Our scholarship contest is open to all fields of study for students who are at least 18 years of age or older and have been accepted to an accredited post secondary undergraduate program or college located in the United States for the specified school year. The program can be a two or four year vocational, college or university. Financial need is not a consideration for this scholarship. The best overall submission as judged by the BOOGEY LIGHTS® team will be awarded a $500 scholarship. This is not a loan. This is a FREE scholarship. There is NO FEE and no purchase requirement. There are of course some rules with terms and conditions so please make sure you review them first.
With September 2, 2019 being Labor Day-- the unofficial end of summer and "back to school" time for many colleges- our theme for this essay contest is higher education. More specifically, is a traditional four year college degree worth the time and cost? If so, why? If not, what alternatives should one consider and why?
Entry Deadline: September 30, 2019
Amount: $500
Theme: Is a traditional four year college degree worth the time and cost? If so, why? If not, what alternatives should one consider and why?
Winner will be announced by October 15, 2019.
---
Scholarship Contest Overview
Our essay contest encourages recent high school grads or college students to submit a 750 to 2500 word essay expressing their views on the essay theme. The best overall submission as judged by the BOOGEY LIGHTS® team will be awarded a $500 scholarship. This is not a loan. This is a FREE scholarship. There is NO FEE and no purchase requirement. There are of course some rules with terms and conditions so please make sure you review them first.
Scholarship Eligibility
Our scholarship contest is open to all fields of study for students who are at least 18 years of age or older and have been accepted to an accredited post secondary undergraduate program or college located in the United States for the 2019 school year. The program can be a two or four year vocational, college or university. Financial need is not a consideration for this scholarship.
How to Enter
Submit your essay along with the information requested using our online form. We will begin accepting entries at least 15 days prior to the entry deadline. You will be asked to provide some personal information along with a photo head shot (used only if you are chosen as the winner). All information provided will be used only to compete in this contest. We will never sell or give away your information to anyone, ever. Deadline to submit your entry is midnight eastern time on the date specified above. All entries must use the online form. Only one essay per person (based on email) will be accepted.
Funding Award
The winner will receive the scholarship funds directly eitther via Paypal or check paid to the recipient. If you don't have a Paypal account, it only takes a few minutes to set one up and it's free.
The Essay
Essays must be typed in English, have no less than 750 words and cannot exceed 2,500 words. All essays will be judged by the BOOGEY LIGHTS® team. Essay will be judged based on the knowledge of the theme, development of the theme and clarity of the ideas presented. Write your essay in an easy-to-understand format. Leave the reader with a clear understanding of your explanation and thought process of the theme. The essay must be original work and a product of the your own thinking. The approach to the essay theme should be positive and clearly focused. Poetry is not acceptable. Quotations may be used sparingly if plainly identified wherever used.
All entries subject to our privacy policy. This scholarship contest is subject to these terms and conditions. Please make sure you read and understand them.
NOTE: The views, thoughts and positions expressed by essay contest winners are solely those of the author.

BOOGEY LIGHTS END OF SUMMER 2019 Scholarship Winner - Matthew P / Fayetteville NC
The debate between a traditional 4-year college education, and other forms such as a technical school degree or certification is one that I have personally been a part of. I have been fortunate to experience both sides of this debate, both as a graduate of a 4-year institution, and also as a student of a 2 -year technical school. I have been able to see my views shift on the subject based on my own personal experience with both situations. Using these experiences, I am a firm believer that for most people, the time and cost of attending a trade school, or technical college has a far better return on investment. The cost of obtaining most trade certifications or 2-year technical degrees is relatively low to the earning potential available. My journey through gaining my 4-year degree and subsequent job hunt, to my present-day career as a Firefighter and EMT have given me the proof that has shaped my views.
I was a firm believer that gaining a good 4-year college degree was essential to making sure that I had the tools I needed to be more successful in life. I financially struggled through school as most middle-class students do, and acquired some rather extensive debt in the process to what I believed was a better path to life. After attending a few different schools trying to find my place I eventually graduated the University of Texas A&M-Corpus Christi with my bachelor's in Marketing, which is also where I met my wife. Upon graduation, I was fortunate again to gain employment in the sales field and actually had some success in my early career. However, upon my wife's graduation from the same university, she was called up to Active Duty in the Army. The process of this was very quick and within a few months of her graduation we had moved our wedding date up and moved all we had from Texas to Fort Bragg, North Carolina. It was at this point I found myself unemployed and suddenly had nothing to show for the success I had built in Texas. This is where my view began to change on the value of a 4-year degree.
Once in North Carolina I began my career search once again. I was filled with blind enthusiasm because I thought that with my degree and slight experience that I possessed; I would have no trouble gaining meaningful employment. I soon found however that this was not the case, and for most jobs I was told I was either too qualified with my 4-year degree or my scope of employment available with my degree limited me to certain areas - such as bigger cities. I went over a year without being able to gain any meaningful employment and being unable to help contribute to the betterment of my family or career. Before leaving Texas, I had always thought of what it would be like to work as a Firefighter and was fortunate to find my local fire department in Fayetteville hiring. With the encouragement of my wife I applied for the department and was eventually hired. The City of Fayetteville put me through the certification program alongside my other fire academy colleagues to earn my Firefighter I and Firefighter II certifications. This was the point that I was able to gain the experience of a trade school and the opportunities offered by gaining a technical degree.
During my job hunt in North Carolina I noticed a reoccurring theme of other military spouses with 4-year degrees. Most had a difficult time utilizing their degree, and the ones that were able to made dire sacrifices financially, and with family to be able to do so. The cost of my Firefighting and EMS certifications were far less than my 4-year degree and luckily, I have already surpassed my earning in what I thought was a successful career in sales. It also only took me a fraction of the time to gain these certifications and have allowed me to gain other certifications to further my new found passion, even more elevating my earning potential. For me this was a costly mistake that has caused me to be under the burden of student loan debt for a degree that I essentially, 5 years later, have yet to see any return from since my graduation. However, with my certifications I have seen nothing but the opportunity for advancement, as well as the versatility of not being confined to one set area, thus making it possible to take advantage of the education gained with my certifications.
My story takes me from an innocent college student in search of ways to have a better life I feel is somewhat unique, but has allowed me a better understanding of the 4-year degree vs. trade school debate. I have seen the difficulties and burden incurred in gaining a 4-year degree that could be crippling to some students. I have been very fortunate to also have found my calling in the in the Fire Service, and learned the value of a trade school certification. I have put a lot of time into my education, and finally feel like I am on the right track to success for myself as well as my family. I am familiar with the burden associated with crippling student loan debt and the effects it has on a family post-graduation, especially a military family. Uniquely I have also been afforded the opportunity to experience the cost and time associated with trade school and the advantages it can yield to a young person. These experiences have shaped who I am today, and hopefully will be what allows me to better my life, and be able to pass this experience on to my daughter when the time comes. Though I have to deal with the burden of debt, I gained in my time at college I do value the experience I have gained. In conclusion, I firmly believe that trade school provides the best opportunities in life for the vast majority of students, and that the burden of cost and time comes no where close to the earning potential of a skilled certification.

BOOGEY LIGHTS SPRING 2016 Scholarship Winner - Morgan D / Stafford Virginia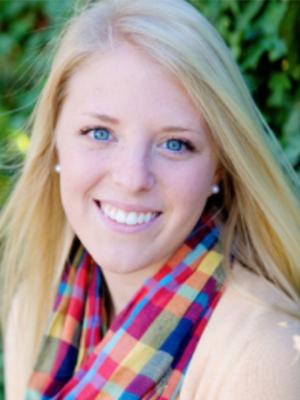 For as long as I can remember, I have always had a very generous personality, which is without a doubt, all because of the way that my parents raised me. My mom was an elementary school teacher and my dad served in the U.S. Army for almost 30 years. Since I am the last of three kids to attend college, I am trying to help my parents out as much as possible by paying for many of my educational expenses. Receiving the 2016 Boogey Lights Scholarship would be a wonderful blessing because my dad has sacrificed so much during his Army career to be able to allow me to attend the University of Virginia. Currently I am taking a full load of nursing classes in college and working as a Care Technician in the Surgical Trauma Burn Intensive Care Unit at the hospital.
Being part of an Army family meant there were always references to freedom and the sacrifices made by our military. At times I may have resisted the tough standards set by my father but in the long run I have realized that he was only doing what he thought was best for me. In my high-school graduating class of 412 students, I was ranked #6 and graduated Summa Cum Laude. While keeping up with a demanding academic schedule, I was also able to letter in 3 Varsity sports and belong to several clubs and organizations. During my senior year of high school, I took a year-long course that enabled me to achieve my CNA (Certified Nurses Aide) license and work 2 days a week in a nursing home. The standards of excellence that my dad expected of me in high school are ones I have continued to pursue in my college career. There were many nights when I would have preferred to go out with my friends, but instead I stayed in and studied or wrote a paper. Growing up in an Army family has been helpful in keeping my focus on grades and the big picture of becoming a nurse. For the 5 semesters that I have been in college I have made the Dean's List every semester and am also a member of the Phi Eta Sigma Honor Society.
Leadership is a quality that has been instilled in me from a very young age by my father. Being the captain of my tennis team for 2 years in high school and an officer in my nursing class are examples of my leadership responsibilities in planning and executing projects. In the workplace environment, I have taken on leadership roles by training new employees at the frozen yogurt store where I worked in high school. I am also working as a Research Assistant for one of my nursing professors and many times have to take the initiative to handle tasks associated with doing research. Part of the reason that I have been successful so far in some of these extra-curricular activities in college is because of the discipline and work ethic instilled in me from my military family. My college career so far at Uva has proven to be the most exciting, exhausting, and challenging time of my life. I am very involved in my sorority (Sigma Kappa) and enjoy the many social and philanthropic opportunities of this organization.
Being part of a military family has also helped me through some challenging times. This past summer I had to wake up at 5 a.m. five days a week to work in a unit for Alzheimer's patients. I can remember one particular morning that was really rough – I had been spit on, had feces thrown at me, been yelled at, and had a cup of soup thrown in my face. I was almost in tears as I went into the break room to gather my composure. I'll never forget what one veteran nurse told me that morning. She told me that these patients were all people with interesting lives and personalities, but because of this horrible disease they were losing themselves day by day. This nurse told me to look past some of these inappropriate behaviors and try to get to know them as a person and appreciate the path they are on. From that day forward I began to look at my patients in a new way – by looking at some of their pictures in their rooms, reading to them, or trying to make them laugh. I began to see that because of everything my patients and their families were losing, there was one thing I could give them – and that was dignity. I look forward to the day when I will be a full-time nurse and can make a positive impact on my patients and their families.
Growing up in an Army family, my dad was always making references to military situations or actual people that made sacrifices for their fellow men and country. "Go Grable!" I heard this phrase many times growing up in a competitive military family. My dad began using this phrase when he was coaching my brother's soccer team. The whole team (including siblings and parents) went to the Vietnam Memorial in Washington D.C. to see the name of Lance Corporal Grable. He was the Marine who gave up his life to save his platoon. My dad was trying to teach the boys about teamwork and the importance of sacrificing your needs for the good of the team. My dad explained to me the story of how Grable sacrificed his own life in battle so his men would survive. My dad also explained to me that sometimes in life we have to make choices that are uncomfortable for ourselves but in the long run, these choices will help others. Although Grable lost his life on the battlefield that fateful day, the physical and moral courage that he showed has become an inspiration not only to the members of his platoon who survived, but his brave and courageous story has made an impact on my life as I begin my education to become a nurse.
My dad's patriotism and love for the U.S. Army has made a huge impact on my life as I sometimes encounter difficult situations in my daily life. The love I have for my country and the U.S. Army has encouraged me to work hard and make choices that will make the world a better place. The reason that my dad took his soccer team to see Grable's name on the Vietnam Wall was because the team motto that year was "Go Grable!" The phrase was meant to inspire and motivate the boys to give everything they had – both physically and mentally in the game of soccer and also in life. This phrase has become an important one to our family over the years as we faced many challenges in sports, school, and life. Many times I can remember feeling like giving up when I was running laps for field hockey or trying to help my soccer team come from behind in a close game. Sometimes my dad would yell "Go Grable" and I would look across the field and smile and think about what Grable did for his men so they could have freedom. Learning about the sacrifices that Grable made so that others could be free makes him a hero in my book. Growing up in a military family and trying to meet the high standards of accomplishment set by my dad has made me a better person. A quote that my dad put on my high-school graduation card makes me think of Grable and the courage that he showed that day in Vietnam: "The true test of character comes when the stakes are high and the chips are down. When your body hurts and you are dog-tired and you know you have more to do. You now have a decision to make. Do you take the easy way out or do you work a little harder and finish? That is when your true character is exposed." Freedom is something that so many people take for granted. Because of my background, I plan to keep appreciating all the blessings that have come my way and pass along this good fortune to others as I continue my training to become a skilled and compassionate nurse.

BOOGEY LIGHTS FALL 2016 Scholarship Winner - James W / Stephenville Texas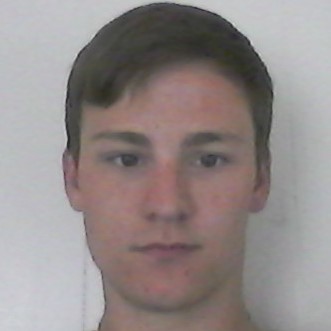 Voter ID Laws - Good Intentions, Unintended Consequences

Voter ID Laws have become a major source of debate in the last 10-15 years. There are two sides to this conflict. There are those that support the laws and say they protect our elections from voter fraud by requiring everyone to have a form of governmental ID to verify their identity. Then there are those that say they are unconstitutional and prevent many eligible voters, both minorities and others who are not easily able to get the governmental photo ID's that these laws call for. Coupled with the fact that a large number of young eligible voters don't have the motivation, or the knowledge and history of the candidates to want to vote leads to a very strong deterrent on many eligible voters to go out and vote.

My belief is that these voter ID Laws, while in most cases are in good intentions, in reality lead to a much more damaging election than voter fraud ever could due to lower voter turnout, which means a smaller pool of ideals and morals being passed to the government. Being a young college student myself I can speak for how hard it is to find the time to go out and vote, but to have to deal with the extra burden of the additional steps that these ID Laws bring to many eligible voters in our country, leads to a great many votes that never get submitted. Studies from the Center for Study of the American Electorate, state that in the last 15 years eligible voter turnout for presidential elections have been between 54-62%, and in a study by the U.S Census Bureau, Congressional elections fared even worse with only 41.9% of eligible voters turning out. This is an unprecedented number, meaning more than half of Americans have had no say in who is running their government. It also means that there is less of a pool to sway to one candidate's side, making it easier for groups and like minded individuals with power and money to obtain a large portion of the votes for a candidate that carries their ideals.

Are voter ID Laws to blame for these numbers? No, they are only a piece of the puzzle that has caused this absence of Republic values. I believe that these laws should be dismissed and more resources should be devoted to accurate and precise keeping of voter registration and eligibility of voters, as well as striving to make casting a ballad as easy and pain free as possible, in order to get the greatest turn out on Election Day as possible. I believe that dismissing these ID Laws and striving to keep the most precise documentation of voters as possible would lead to a fairer and true election than could be had with these laws. With proper documentation, as well as a system using the technology of facial recognition; requiring all voters have a picture taken to ensure individuals do not vote twice under different names and information, would be more than enough to prevent fraud. I believe facial recognition with other systems that don't aim to prevent voting, but to only document everyone that votes will eliminate the need for such laws, and allow us to prevent fraud as well.

While voter fraud is a very serious offense, and is not to be taken lightly, It needs to be set straight that fraud is a very uncommon issue, and in many investigations of voter fraud the number compared to overall voter population is infinitesimal. Many studies and undercover research have shown that while voter fraud does exist, it is much rarer than the media and lawmakers make it out to be, and that if acted upon in the correct manner can be made almost nonexistent. The reality of the situation is most voters, no matter how determined to see their candidate elected do not see the risk of committing voter fraud, which carries a penalty of 5 years in prison and a fine of $10,000, worth one additional vote to their candidates side. While the idea of preventing voter fraud is an honorable agenda that I would gladly back, it must he handled in a manner that does not infringe upon voter turnout in anyway.

Voting is the greatest liberty we as Americans possess, and it must be with the utmost urgency that we attempt to make voting as easy and free as possible, to encourage everyone that is eligible to vote, and to show the generations that follow us that it is one of their strongest weapons to make the world a better place and to bring about the changes that they believe are needed. We cannot infringe upon the voting of any person in this country less we forget our inheritance and how this country came into being.