Cut N' Click™ Single Color Touring/Bagger Motorcycle LED Light Kit
OOS Message
OOS Message
Cut N' Click™ Single Color Touring/Bagger Motorcycle LED Light Kit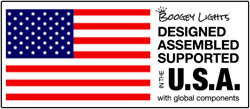 Our most requested setup for touring and bagger bikes available in our Cut N' Click™ series lights. Maintenance friendly, easy connection jumper wires power up each strip which makes daisy chaining light strips easy. Each strip contains 39 single color 5050 LEDs with 13 power connections. Draws just 420 milliamps (.42 amps) for the entire strip. The modular design of our Cut N' Click™ flexible LED motorcycle strips eliminates the wire clutter you get from strips or pods that each have their own long wire lead to run back under the seat. You can use these just about anywhere on your bike. The beauty of this series is the ease of installation and your bikes future service needs. Each strip can be configured into groups of 3-LED's making it versatile for any location on the bike. If your bike needs future service simply disconnect the wire going to the strip and the part can be removed.

NOTE: If you ride in an area where you will encounter salted roadways or in coastal areas with heavy salt in the environment you might want to consider our Hi-Intensity Series LED lights strips. Those strips are sealed and will withstand moisture intrusion/corrosion better.

Sorry. Our Cut N Click Light Series products are excluded from discount offers.
Important Note On Purple LEDs! All purple LED's on the market today are actually ultra-violet (U/V) and produce a soft purple glow particularly when used on motorcycle engines. The color however is not a real bright effect like you'll get with red, blue, green, orange, etc. If you want a subtle purple glow that looks great, then the U/V LED's may well be for you. If however you want the brightest lights possible, you will not be happy with purple.
Includes
Three (3) - 39-LED Cut N' Click™ Strips in your choice of color. Each strip is 58 cm long (about 23 inches)
Two (2) - 9-LED Wheel Lights in your choice of LED color and case finish
Standard front wheel wiring kit
Complete wiring kit that includes (2) 22" power lead, (3) 39", (2) 12" and (3) 15" connector wires, push button on/off switch, in-line fuse and installation instructions
Three Year Original Owner Warranty - Does NOT cover corrosion of the power connections
Options
Color Selection - Choose the color for your light strips and the color and case finish for your front wheel lights. If you have chrome calipers you will want a chrome case
Upgrade to our Front Wheel Wiring Kit with Steel Braid - if you have braided lines you will want to go with this option
Remote LED Controller - A wireless remote is NOT included with the base kit. You can add a wireless remote control if you'd like. See details of what's available in the CONFIGURATION OPTIONS tab.