Under-Glow LED Light Kit for Cars (Multi-Color RGB)
OOS Message


OOS Message


LED Under-Glow Light Kit for Cars (RGB, Multi-Color)
Light up the area under your car with a Boogey Lights® LED under-glow light kit! Designed specifically for use in motorsports applications, this multi-color RGB light kit is incredibly bright. Our low profile hi-intensity LED strips are perfect for mounting underneath your car. They produce a smooth, even glow of light to give your car that custom look.
The base kit includes two - 4 (or 6) feet long hi-intensity LED light strips that will light up the area under your car with any of seven different colors and animate them with special effects using the included wireless RF remote control. Each strip has authentic 3M industrial strength backing tape affixed to the back of the strip making them easy to install. Installation supplies includes 3M promoter which means the strips will not come off unless you want them to.
On full power white, total amperage draw is about 1.75amps for the 4' strips. About 2.25amps for the 6' strips. It's significantly less when dimmed or using other colors. We offer optional ADD-ON Under-Glow and ADD-ON Fender Well LED light kits that can be paired with this Under-Glow kit. These ADD-ONs allow you to light up additional areas such as the rear, front bumper or even the grill area.
Want more color options? You can upgrade the remote control to our wireless Bluetooth controller which will allow you to display up to 16 million different colors plus offer additional color programming capabilities.
NOTE: Above photo shown car with optional 2 additional LED strips under the front and rear bumpers.
More About the Boogey Lights® Bluetooth Smartphone APP
Includes
2 - 4 (or 6) foot long LED (RGB) low-profile hi-intensity light strips each contain 75 LEDs. Each strip includes a hardwired 10' power lead. The LED strip can be shortened if needed by simply cutting where indicated. LEDs are mounted on black PCB made of 2 ounce copper with an epoxy coating to protect the LEDs. The strips are IP65 rated; designed to be used outdoors. LED strip width is 3/8" (10mm). Height is 1/8" (3mm). The power lead is soldered and sealed at one end. 4-conductor power lead (red, green, blue and black) for RGB multi-color.
1 - Wireless RF RGB controller with 2 KEY FOB keychain wireless remote controls. This controller will power up to 300 LEDs.
Optional controller upgrade available for a BLUETOOTH COMBO controller which offers both RF wireless + Bluetooth control using our free IOS or Android APP. If you want to run more than 300 LEDs, we offer an optional upgrade to our HEAVY DUTY controller which will power as many as 1800 LEDs. The HEAVY controller is available in COMBO RF + BLUETOOTH version.
Wiring kit which includes a Buddy Fuse Extender making tapping into 12vdc power on your fuse block easy.
Installation Supplies
Installation Manual and Wiring Diagram
One Year Original Owner Warranty
OTHER ITEMS YOU MAY NEED TO COMPLETE YOUR INSTALL. No two installation scenarios are the same. Not everyone shares the same installation quality goals. Some folks are OK with twisting wires together, others want to solder them. Some folks are OK with running wires where they may be seen or unprotected to save money/time, others want a tidy, clean install without any wires showing. Some folks are OK with mounting their LED strips to whatever surface they can find, others want to take the time necessary to build out appropriate mounting surfaces to provide the best lighting effect on their vehicle. The point is it's not possible to provide all the materials necessary for all installation scenarios and quality goals. Our light kits provide the essential components needed for a high-quality, functioning lighting system. Installation of our light kit to your specific vehicle may however require additional items to make it look and fit the way you want. This is particularly the case with electrical wiring and mounting of LED strips. Before proceeding with your installation we suggest you consider THESE OTHER ITEMS.
Upgrade to Bluetooth + RF Combo Controller
Now with Programmable Color Rotation Feature. With any of the Boogey Lights® BLUETOOTH controllers you can control your lights with your Bluetooth 4.0 enabled Android or IOS smartphone. These high-tech controllers are capable of displaying 16 million different color combinations. In addition, lighting effects on the Smartphone controller are signficantly more controllable in terms of speed and intensity. Each color and lighting effect is controlled by "sliders" or a color square on your smartphone screen so you can adjust the speed and intensity to get the lighting exactly the way you want it. Also, all of our SERIES 2 Bluetooth Combo controllers include an RF remote control allowing for quick on/off of the controller. You can operate this controller with the included RF wireless remote OR you can use your Bluetooth 4.0 enabled smartphone and our free smartphone APP (Android and IOS).
Extra 3M Adhesion Primer
3M Promoter is a powerful adhesion primer. It's an essential step in the installation process but you don't need much of it to make it work. A simple single swipe on the surface you're mounting the light strip to is all you need. Our lighting kits include enough 3M Adhesion Primer to mount the strips in the kit for most installations. Some customers however feel better if they "paint" the mounting surface completely with it -- which is fine if you want to but not necessary. The problem is that 3M Adhesion Primer isn't readily available everywhere; particularly weekends, holidays and evenings. If you use all of the primer that's included with the kit but run out before you're finished, you'll have to wait to finish the job until you get more adhesion primer. If you're one of those people who would prefer to have a little adhesion primer left-over just in case, we offer the option of adding additional tubes to your order. Or, if you prefer, an entire 8oz can of 3M Adhesion Primer can be added to your order.
These LED strips are designed to be used on vehicles that operate on paved surfaces. They are not designed for off-road use. Broken or crushed LEDs are not covered under warranty. While Boogey Lights® Hi-Intensity LED strips are made for motorsports applications, they will likely not survive a direct strike from a hard object. If you are concerned the LED strips might be hit by road debris due to their mounting location we recommend using our Heavy Duty LED Strips which are better able to survive a direct strike from road debris.
All Boogey Lights® controllers and LED lights operate on 12vdc.
Note: All Boogey Lights® LED strips are COMMON CATHODE LEDS. They share a common ground and will only work with positively switched controllers. Most LED strips on the market today are COMMON ANODE because the controller technology used to power them is less expensive to manufacture. However they're not nearly as bright and are an overall inferior design when compared with COMMON CATHODE LEDs.
Note: Boogey Lights® LED strips are not intended to be used while driving on public roads and highways. While some states allow the use of LED accent lighting while driving, other states don't. Some only allow the use of specific colors. Be sure to check your local laws and regulations.
Installation
There is no set installation configuration. Your car and imagination are the only limits (well, and your budget). Here are some things to keep in mind when designing and installing your under-glow light kit. Our diagram shows the typical installation configuration.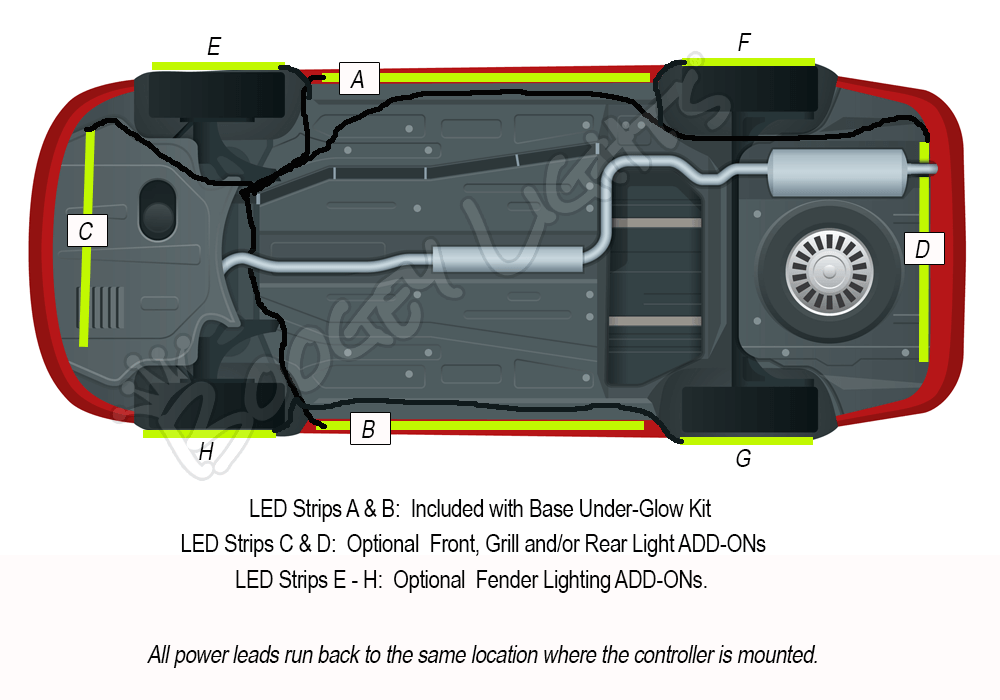 Our Hi-Intensity LED strips can be cut every 3 LEDs to accommodate shorter runs. Just make sure you are cutting them where marked AND that you seal the cut end to keep moisture out.
If you're using our mutli-color LED strips, the maximum number of LEDs you can power using the standard PLUS RF (or BLUETOOTH COMBO ) controller is 300 LEDs. Make sure you aren't exceeding this limit. If you need to power more than 300 LEDs, you can upgrade to our SUPER RGB CONTROLLER which is available either in the RF only version or the BLUETOOTH COMBO version.
If you're using our single-color LED strips, make sure you are not over-loading the circuit they are attached to. As with all lighting solutions, each LED strip should be properly fused. If for any reason there is a dead short in the strip, you want the power to that strip to be cut off to avoid over-heating and potentially burning.
For multi-color LED strip installations, be mindful of where your power source is located as well as where you will be mounting the controller. For most automotive installations, the RGB controller is usually mounted either under the driver's side front foot well (taping into the fuse block for 12vdc power there) or in the engine compartment (connecting to the battery there). All power leads coming from the each LED strip will need to come back to the controller. If you're moounting the controller in the engine compartment, make sure it's located in an area where it will remain dry.
When mounting on the bottom of any vehicle we recommend making sure you are not mounting the strip in-line with the wheels or in areas that might be prone to a direct strike from road debris. While Boogey Lights® Hi-Intensity LED strips are made for motorsports applications, they will likely not survive a direct strike from a hard object. Broken or crushed LEDs are not covered under warranty. If you are concerned the LED strips might be hit by road debris due to their mounting location we recommend using our Heavy Duty LED Strips which are better able to survive a direct strike from road debris.
The only way to ensure the LED light strip stays stuck to is to make sure you prepare the surface in accordance with the directions. This includes making sure the mounting surface is smooth and free from oil, wax or other solvents. Our lighting kits include 3M® promoter, although you may wish to purchase additional just in case. It's absolutely critical the surface be prepared using this 3M® promoter and that you follow the directions provided with every light kit. For the power lead wires that feed the LED strip we include some extra 3M® tape and zip tie mounts. If you purchased an LED light strip that does not include this primer, we offer primer for sale individually or in cans. Some customers will also wire-tire the strips to the bottom of their car. This is OK provided the wire ties are not pulled too tight such that they crush the PCB board which will damage the LED strip..
The length of power lead between the LED light strip and the power source absolutely impacts the brightness and power consumption of the light strip. This is an important concept to keep in mind when designing your setup. For power lead lengths longer than 15 feet (and less than 76'), we recommend using 20 gauge power lead wire which we offer for sale. The lower the gauge number, the thicker the cable. The thicker the cable, the less power loss there is over longer distances. Most automotive installations however don't require additional power lead cable.
If you want a cleaner installation, we offer aluminum channels with optional diffusers that snap on top of the channels. The aluminum channels can either be screwed to the surface our you use 3M VHB tape (with promoter). Once the channel is mounted to the surface, the LED strip will then affix to the aluminum channel with the diffuser snapping in on top. It makes for a very clean installation. We offer a number of styles of aluminum channels for this purpose.
AMPERAGE Data for most Boogey Lights products can be found on our website.
When in doubt, call our technical support team! We're the experts. We've done this thousands of times. We know what works.